About Us
Say Hi to Our Team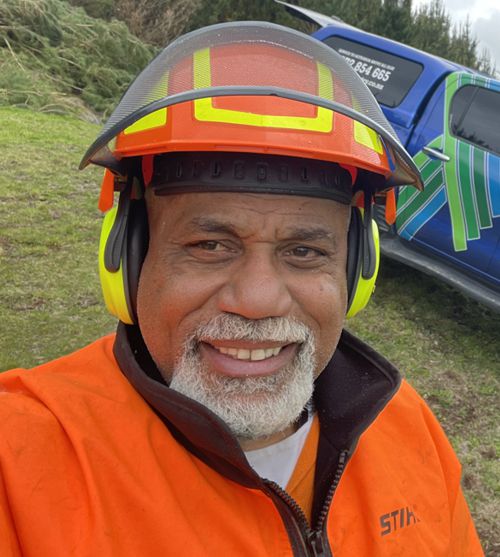 Seru Tabudravu
Managing Director / Project manager
Qualifications
Twenty four years of continuous experience on job ForestryTraining
Twenty four years chainsaw pruning
Registered Assessor for Competenz
National Certificate – Occupational Health and Safety
National Certificate – Silvicultural Thinning
National Certificate – Silvicultural Pruning
ESP Programme Graduation Diploma
Personal skills and knowledge
Gained particular knowledge, skills and genuine interest in the Forestry Industry/Silviculture Field, including proven team leadership with the ability to train and develop and encourage others in making goals and achieving targets of their own.
An in-depth understanding of the principals and systems of the forestry industry over twenty four years.
Attending leadership and client personnel relationship seminars. Having learnt and developed forestry knowledge and on the job requirements.
Two year experience as a crew manager for Interpine Forestry, managing the Taupo based crew which consists of ten staff during pruning season, increasing to 21 staff during planting season providing satisfying service for clients like New Zealand Co-operation, New Zealand Forest Managers and Fletcher Challenge Forest.
Twenty four years as a forestry contractor, servicing to major clients, Kohntrol Forest Services, PF Olsen Company Limited, Ernslaw One Limited, Pan Pac Limited, Rayonier Limited, Greenplan Forestry, New Zealand Forest Managers, Northern Forest Products Limited and Juken New Zealand Limited. Employing up to 35 staff.
My capabilities have greatly increased due to the good working knowledge and experience I have gained throughout my employment history.
Working for various contractors in the Forestry Industry I have experienced and gained the necessary skills and qualifications, undertaken training and followed all procedures that adhere to the safety regulations and requirements.
Maureen Tabudravu
Office Administrator / Company Director
I have been working alongside Seru for the last twenty four years as our office administrator for our silviculture business.
Wages
Budgeting
Accounts payable/receivable
GST and PAYE
Computer data input
All other aspects of office duties
COMPANY BACKGROUND
Baypine Forestry Ltd commenced operations in 1998 and has rapidly expanded to presently employing between 20 and 30 staff, servicing four major clients in the East Coast and Central North regions.
We specialize in servicing the East Coast and Central North forestry industry, providing planting, spot spraying, pruning and thinning to waste operations. We take pride in the company's growth and achievements and are working towards being one of the largest silvicultural businesses in the East Coast and Central North.
With our forward thinking and "Can do" attitude we are confident that our service and expertise will remain second to none.
VISION
We aim to be the company of choice, meeting the challenges of the future through team work and setting the highest standards of integrity, professionalism and quality customer services. We recognise that the success of our company depends on our employees and that people are the basis of our strength. We see to build lasting and faithful business relationships with our clients, providing services of unequalled value.
Since my appointment as managing director of Baypine Forestry Ltd, I have witnessed a relatively young company flourish through commitment and hard work. Our dedicated team has contributed to the common service to our industry.